5 Little Pumpkins is a classic Halloween book, but I changed it up a little bit this year for circle and it was a hit!
To start, I read the book one time through and we do all the actions with it:

1-"Oh my it's getting late"- surprised face with our hands on our cheeks
2-"There are witches in the air" (pretend to hold your broomsick in front of you and sway side to side like you're flying around- at work we changed it to "leaves" and covered the witches with leaf pictures so we pretended like the leaves were blowing in the air!
3-"But we don't care!" – put our hands up like an "I don't know" shrug and shake our heads
4-"Let's run and run and run" (run in place)
5-"I'm ready for some fun" (put our hands up in the air and shake them)
6-"Oooo went the wind" (make our arms blow like the wind)
7-"Out went the lights" (hit our hands on our laps- and a teacher or para will go to the back of the room and turn out the lights for us at that part!)
8-"And the 5 little pumpkins rolled out of sight" (roll our arms)
Then, 5 kids get to be the pumpkins in the book.  Have them hold a pumpkin of some kind (even if it's just a picture!) and when it gets to each pumpkin, point to each student and have them fill in the line ("The first one said……..") and we all do the actions with it again.
A Big Mack switch comes in handy for this if you have kids who aren't yet verbal, so they can participate expressively, too!

What's also nice about this is even if there's 15 kids in your classroom, the song goes so quickly and since everyone's doing the actions together, you can sing it/act it out multiple times and no one's waiting around forever!

Afterwards, I borrowed pumpkins from a classroom's sensory table, and the kids took turns placing the pumpkins on the "gate" (a white accordion divider about hip-high that we'd used in a classroom before).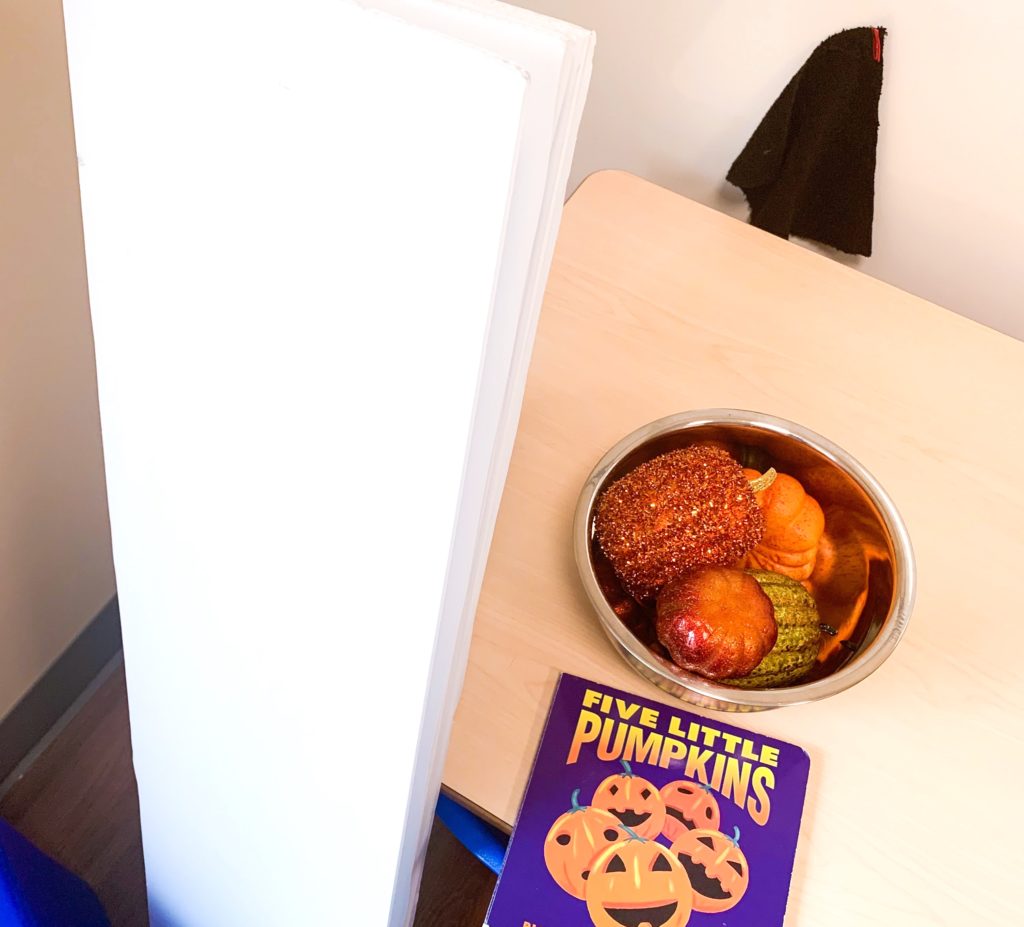 We worked on describing what their chosen pumpkin looked like (round, big/small, tall/short, sparkly, rough/smooth, etc…) before lifting up one side and making the pumpkins roll off! (also working on "ready, set…. go!")

Targets:
-Motor imitation
-Fill-ins
-Descriptive concepts
-Size concepts
-Preposition "on"

AAC:
-Core vocabulary: model "on" (especially with the activity at the end, placing all the pumpkins 'on' the gate) and "go" with 'ready set go' as you make the pumpkins roll off the gate

-PECS: Have your student request a pumpkin when it's their turn, and they can come and choose which one they want. OR, if you're working on attributes with PECS, work on big/small, colors, etc..

-Big Mack switch: Program whichever line from the book the student who needs a switch, will be saying.

What are some other ways you use this book?